On December 24, in the main square of Cusco, one of the most important Christmas fairs in Latin America called Santurantikuy is celebrated. Cusco is covered with hundreds of artisans from different parts of Cusco and other regions of the country. The exhibition of these original works fruit of the creative spirit throughout the year adorn the births of the homes and institutions of the country.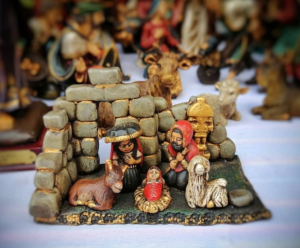 After the colony established in Peru, the order was given to celebrate in the main square of each town or community this popular art festival called Santurantikuy, which comes from the Quechua words: Santu (saints) and Ticuy (sale). The Spanish priests roamed the hamlets trying to catechize the native Indians. On these Christmas dates they spoke of Enmanuel, a child born in Bethlehem and whose name means "God with us."
This fair is prepared up to 6 months in advance, where the artisans prepare their artistic works. Everything is staged in the Plaza de Armas, where artisans from all cities arrive and give a colorful fair to thousands of people. The image of the child Manuelito has been created by artisans with different attitudes. Some have red badges on their faces and mischievous eyes. His body seems to have Indian skin and he keeps his arms open as a sign of welcome. Others have sculpted it, tired it and almost asleep; sometimes thoughtful and smiling. There are also crawling with their heads trying to stand up.
Today you can find specialists in: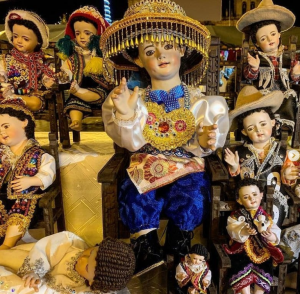 Decorative ceramics.
Wood and tree bark works.
Miniatures and watermarks.
Imagery.
High relief.
Artistic chandlery.
Sculpture.
Silversmith's.
Manuelitos children.
Works in flowers.
Stone work.
Leather Works.
Cusco, world cultural heritage, offers in its colorful Christmas party with arrangement of balconies of the Monumental Center, with lights, garlands and Christmas motifs. Santurantikuy anthropological heritage of our nation.